Wood Stain & Solid Colour Matching Experts
Katilac Coatings is a one-stop manufacturer for all your industrial wood coatings needs. We offer custom colour matching for factory applied stains and solid colours along with the ability to design systems to match any desired look. Whether it's a simple paint colour or a multi-step stain and glaze system, we've got you covered at both our company owned locations in Woodbridge and Burlington. All KCI distributors are colour matching qualified partners with trained colour technicians. To find a distributor in your area, please go to Distributors.
Katilac offers state of the art in-house colour matching from the most skillfully trained colour technicians in the industry. At KCI we pride ourselves in providing the most accurate and timely, quality controlled colour matches. Bring in your sample or arrange for a no charge pick-up. Choose from our full line of products with a quick turnaround time. Our wide range of pigments and dyes allows us to match any specific colour or colour system.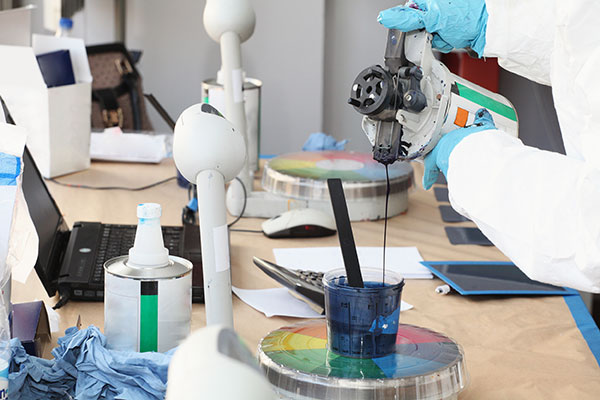 Industrial & Factory Applied Applications
Katilac offers FREE colour matching services to manufacturers of kitchens, furniture, shutters, store fixtures along with professionals and architectural woodworkers. We provide colour matching for the following products and systems:
Wiping Stains
Spray Stains
N.G.R. Stains
Shading Lacquers
Wet and Dry Glazes
Pigmented Primers and Topcoats (for all lines from pre-cat & post-cat to waterborne and polyurethane)
As the market trend shifted to more predominately opaque finishes, KCI partnered with X-Rite the leader in colour computer technology to develop colour matching software to work with our line of industrial wood coatings. Our X-Rite platform is a database of 70,000 consumer paint colours with spectrophotometer capabilities that can generate formulas from virtually any sample.
Drop a match off at one of our locations and let KCI show you why we are the colour matching experts.